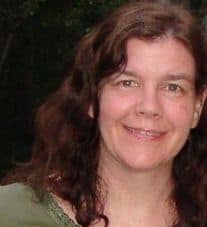 I'm a single mom to three grown kids – Matt, Tim and Becks. They are each unique and amazing adults. I'm so proud of them.
I love baking and every dessert is my friend. I love chocolate – especially dark chocolate. There's nearly always a dark chocolate bar stashed in a cupboard so I can have a bite every day.
My best friend, Lisa, and her family taught me most of what I know about cooking. Since they are Italian, you might see a slight Italian bent to my recipes.
I'm from Austin, Texas which is rated one of the top foodie cities in the U.S. so there's always inspiration for new recipes. My neighborhood is like a throwback to the 50's and 60's.
The houses were all built in that time period and my neighbors know each other. My kids and their friends cut through neighbors' yards to get to the creek and the park. It's a great hometown feel in the middle of a growing city.
I'm also a science educator so love exploring the chemistry that makes foods come out the way they do.
Lastly, I love to travel. I lived in Cambodia for two years. I've also visited 48 of the 50 United States and two US territories (US Virgin Islands and Puerto Rico) as well as Israel, England, Scotland, Wales, Canada, Mexico, Germany, Austria, The Czech Republic, Lithuania, France, Turkey, Belgium, Hungary, Spain, Vietnam, Taiwan, Japan, China, South Korea, Laos, Thailand, Myanmar, Malaysia, Macau, The Philippines, Indonesia and Swaziland.